Write to Smile
Hello Dear One,
How are you? I hope that after last week's letter, you've let go of some things weighing on you. If not, take a deep breath. This week should generate a little lightness.
Where I am the world is cooling. Leaves are beginning to fall and my dog and I are up before the sun. These transitions always take adjustment, especially when accompanied by torrential rain, but everything is temporary. My intention is to lean in: to welcome cosy jumpers, long walks with flasks of tea and reading books. Doesn't sound so bad, does it?
This week is about smiling, or more specifically, how we can remind ourselves that joyous things exist all around us, and within us. Perhaps this seems like a big ask right now. Bear with me.
When I was fifteen a friend gave me a purple and yellow Little Miss Sunshine sign for my bedroom. 'Because you're always smiling,' she said. I was appalled. I was struggling with undiagnosed clinical depression, felt hopeless and hideous and couldn't remember a week in which I hadn't cried. To my friend I was cheerful. It's something I've never forgotten, that false imprint of me. When I write today about smiling, I absolutely don't mean forcing yourself into feeling something. If you're angry, be angry. Express it all. Go to my exercises on grounding or anxiety. Be self-compassionate. Then come here. Know that this can lift your spirits. 
During lockdown, my sister came to a Write to Thrive workshop. Afterwards, when we chatted, she said 'I never realised that writing can make you happy.' It can. It can part the clouds a little and help you see beyond where you are. It can have a profound effect on your mind and body. And yes, it can bring you joy. It can anchor you in positivity so easily swept away in times of uncertainty and heightened pressure. It can bring forth a sense of being, of confidence, of calm. It can make you smile.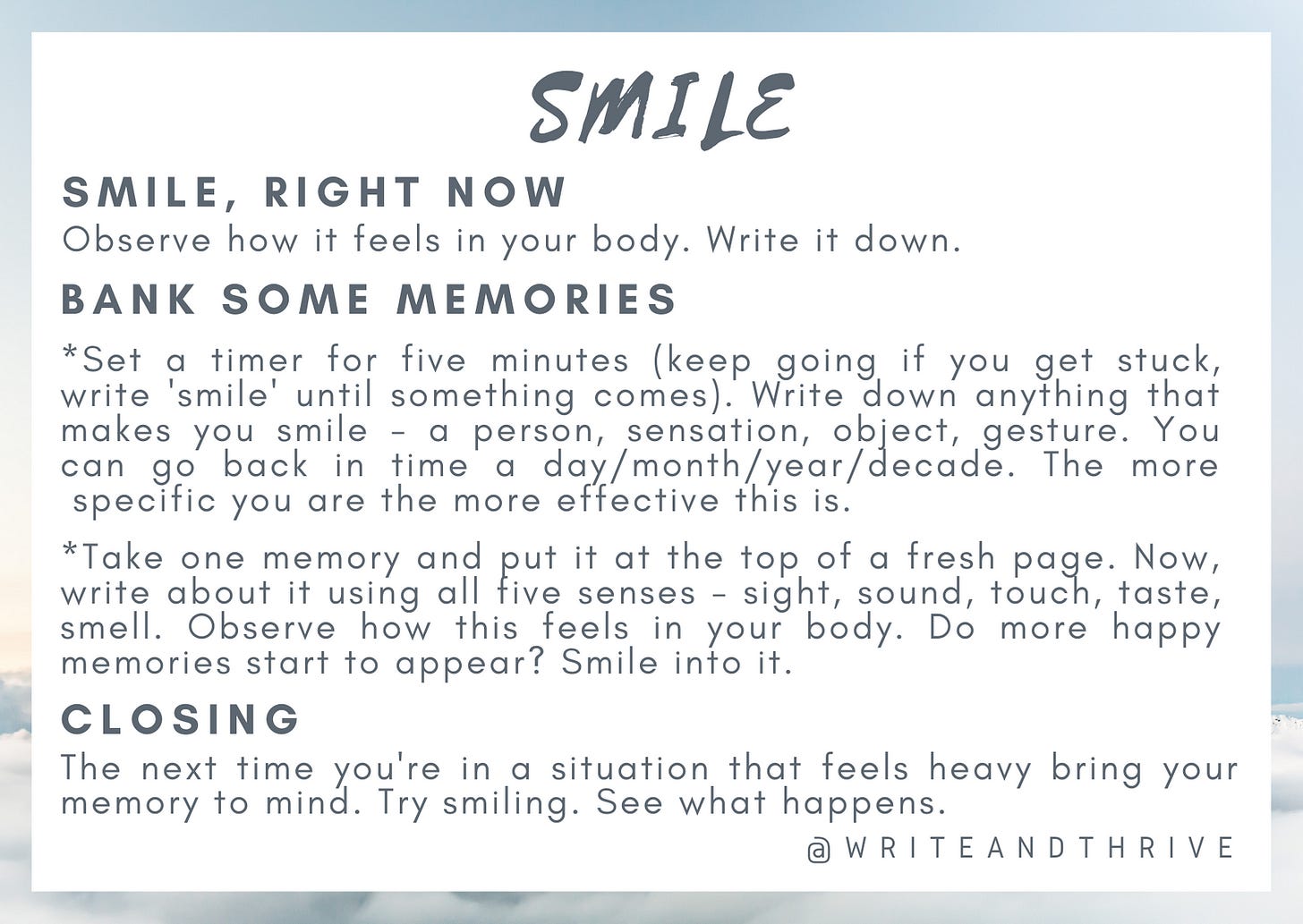 How was it? My list included the moment when I snuggle down to nap, writing and performing poems and conversations with friends. Smiling genuinely tricks the body into thinking it's in a joyful state, triggering happy hormones. Or, as wonderful meditation teacher Tara Brach notes, "The muscles used to make a smile actually send a biochemical message to our nervous system that it is safe to relax in the fight or flight response." When we feel safe we are free.
One thing that makes me smile every week is this newsletter. Another is the messages and comments I receive. Imagine a world in which we found it in ourselves to smile more. I can only think it would be kinder and more connected.
Thanks for being here, and being you. 
All love,
Jo 
P.S. - If you're enjoying this letter (published free every Tuesday) leave a message in the comments, follow me on Instagram or tell a friend.